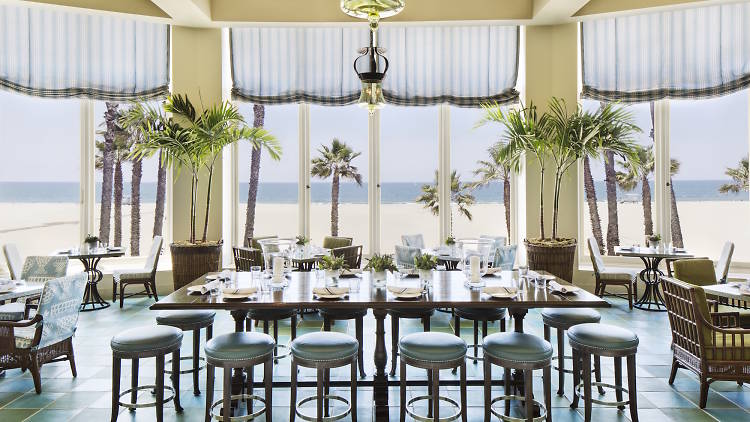 Spend your next vacation seaside at the best beach hotels in Los Angeles, from Malibu to Manhattan Beach
Written by Michael Juliano & Time Out contributors Contributors Lola Christina Alao & Alex Floyd-DouglassTuesday April 18 2023
Yearning for an escape to L.A.'s sandy shores? One of the best things about the county it is miles of sunny coastline, stretching from Malibu all the way down past Manhattan Beach and Palos Verdes toward Long Beach. Each beach town boasts a different vibe to suit your fancy: the 'Bu for an A-list-style retreat; Venice for an eclectic, no-frills getaway; a trendy, commercial setting in Santa Monica; Rancho Palos Verdes for a luxury resort feel with a golf course to boot; and a laid-back, surf- and beach volleyball- vibe in Manhattan Beach. No matter what kind of vacation you're seeking – whether with family, friends, or a significant other – you can't go wrong with the best hotels on the beach in Los Angeles.
These little spots of paradise all sprout from the waterfront, where you can enjoy ocean breezes, crashing waves, amazing restaurants and bars, luxurious rooms and suites, and breathtaking views. Be sure to check out the array of hotel features before booking your stay, including swanky rooftop bars, spas, private balconies, fitness centers, in-room fireplaces, kitchenettes, and bicycles on loan for hotel guests. Not to mention, nearby attractions like picturesque piers, famous boardwalks, popular dining spots, and walking trails (the beach walk from Venice to Santa Monica is a must). From secluded spots along L.A.'s best beaches to swanky suites in Santa Monica, these are the best hotels on the beach in the City of Angels.
Best L.A. beachfront hotels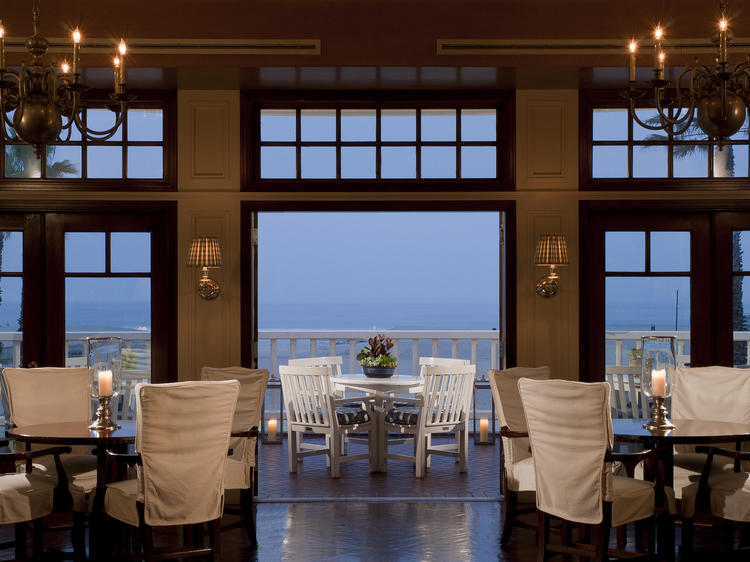 Hotels
Boutique hotels
Santa Monica
price 3 of 4
Formerly a cool retreat for hot Hollywood stars and now a sister to Casa del Mar, Shutters has a relaxed but decidedly upscale style. Filled with comfortable sofas, club chairs, and prints by modern masters such as David Hockney, the lobby mirrors the beach-cottage ambiance of the rooms and suites, which in turn feature lovely, dark hardwood floors and the hotel's signature white shutters. Guests who prefer gentle pampering to the myriad outdoor beach activities can spend a day at the spa or sit poolside sipping wine and taking in the ocean views. The luxury is low-key, but it's luxury all the same.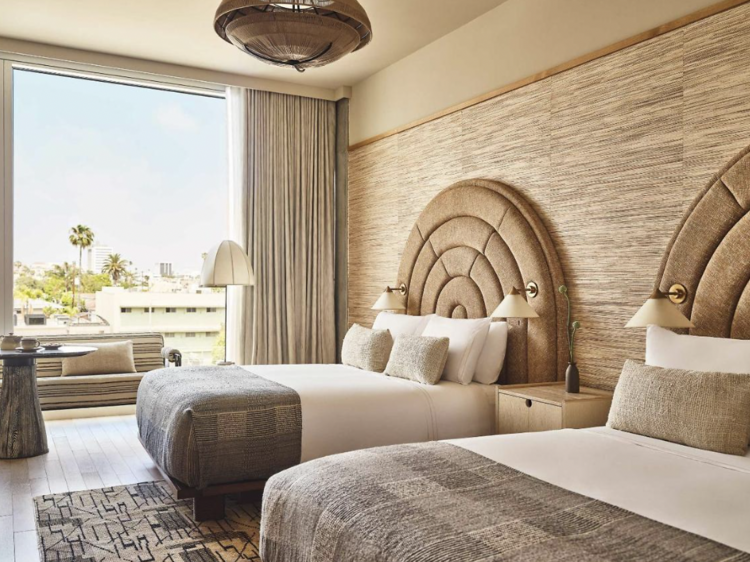 Courtesy: Booking.com
2. Santa Monica Proper Hotel, Santa Monica
As Santa Monica's newest lifestyle hotel, Proper Hotel is a stunning combination of contemporary design and the whimsical character of its 1928 landmark building. Rooms come well equipped with Kelly Wearstler throws and bathrobes, Fili D'oro Fine Linens, and Aesop bathroom toiletries for all your luxury needs – and wants. Dine in one of the three on-site bar-restaurant hybrids (we'd recommend Onda) before heading up to the rooftop deck – complete with pool and yes, you guessed it, another bar. If you fancy slowing down the pace of life for a hot minute, check out the 3,000-square-foot spa and yoga terrace – or head to the fitness center, if you're feeling it.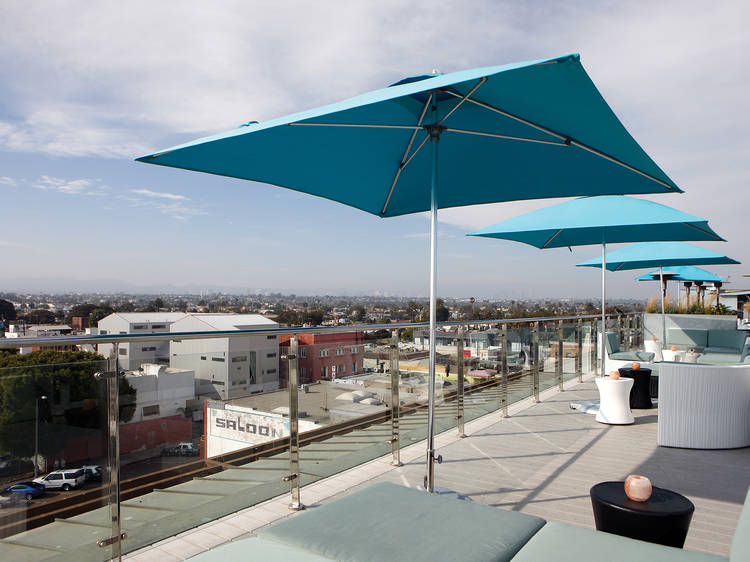 Photograph: Courtesy High at the Hotel Erwin
Hotels
Boutique hotels
Venice
price 3 of 4
This meticulously styled boutique lodging literally has steps down to the boardwalk and the ocean, which is pretty neat. Meanwhile, inside Hotel Erwin, you can relax with a very SoCal bite to eat at the pizza joint or enjoy drinks on the roof at High Lounge. Each room comes with the usual amenities, plus iPhone docking stations, Byrd hair products, and a Whole Foods honor minibar. If you really want to splash out, book the Oceanview King Suite, which comes with a separate living/dining room, a massive flat screen, and a private balcony.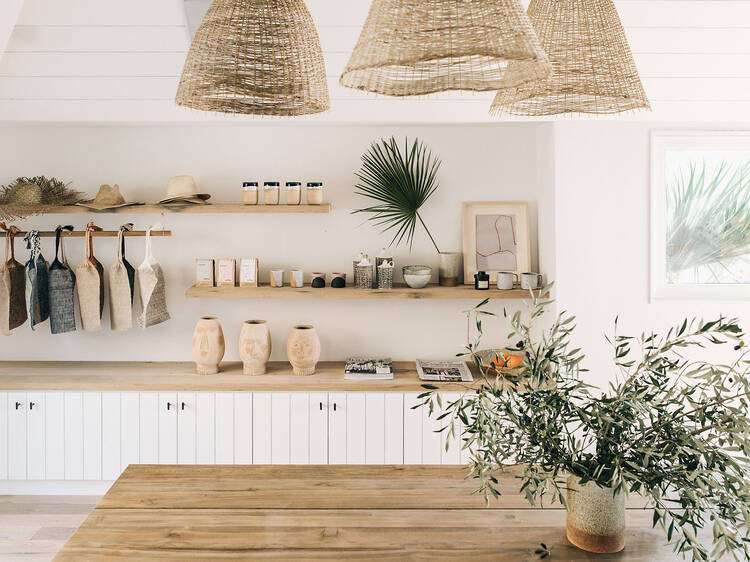 Photograph: Courtesy M.K. Sadler
Hotels
Boutique hotels
Malibu
price 3 of 4
The Surfrider isn't technically on the beach; instead, it's right across PCH from the water. But the sunny, refined rooms here are fit for a magazine spread without ever feeling too precious—which lands it on this list. The reason to stay at the Surfrider is its rooftop, a low-key, privileged perch that's only open to hotel guests – who are welcome to invite two additional visitors per reservation.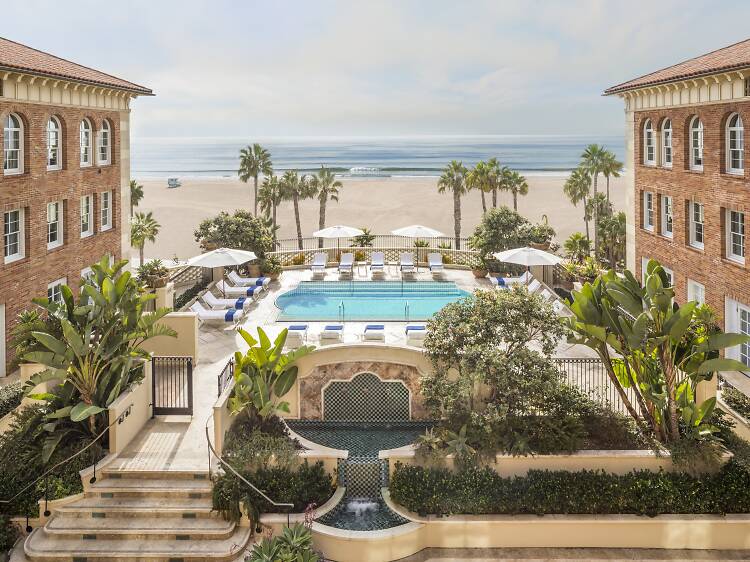 Photograph: Courtesy Lisa Romerein
Hotels
Boutique hotels
Santa Monica
price 4 of 4
Located on the sand, close to Santa Monica's shops and restaurants, this elegant and architecturally significant hotel is a local landmark. Most of the plush rooms and suites offer ocean and coastline views; for a really opulent stay, reserve one of the two-story penthouse suites or the super-deluxe presidential suite. An afternoon at the spa is a vacation in itself; salon services can be enjoyed in one of five Mediterranean-style treatment rooms or, better yet, under a cabana on the fifth-floor pool deck. The bar in the ornate and well-furnished lobby is a popular meeting spot for the bronzed and beautiful locals.
credit: https://www.timeout.com/